The ComPanion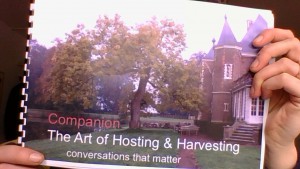 What began as a review of the workbook – for the '16 training – transitioned into a new – and extra – guide intended to illuminate the deeper patterns and the distinctive work and contribution of Art of Hosting to the field. It's beautifully written and put together by Helen Titchen Beeth and Steve Ryman, with gorgeous illustrations from Lara Listens.
As it says in the introduction
" this guide is an attempt to point to the moon whilst humbly acknowledging the inadequacy of putting the rich complexity of our work into words – its an invitation into deeper collective inquiry into the mystery of emergence" – Read online or download

Community Resources
Video Resources
Downloads
Compiled by our friends and harvesters of the Art of Participatory Leadership Training in Slovenia, 2014.

The Art of Harvesting.pdf – Download File
The Art of Powerful Questions.pdf – Download File
Collective Harvesting of AoH Practice Stories.pdf – Download File
Description of Designing Wiser Action.pdf – Download File
DFWA Harvest Template.jpg – Download File
From Hero to Host.pdf – Download File
Conversational Leadership.pdf – Download File