Hosting and Harvesting
Conversations that Matter
Drongen, 27 Febr. – 1 March 2018
Do you sometimes wonder
what skills and capacities could help you in the transition from hierarchy to self-management and self-organisation?

 

how to approach leadership in this complex and unpredictable world?

 

how to increase your confidence in your own capacities, and to sharpen your skills to succeed in any endeavour? 

 

how to clarify your own intentions so that you can be more effective in working with others, both inside and outside organisations?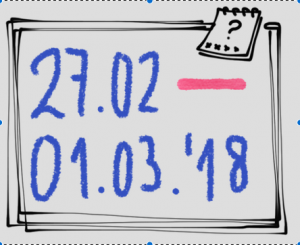 Or are you looking to:
learn methods for introducing self-management and self-organisation in your organisation? 

 

develop an organisational culture where innovation and feedback can flourish? 

 

improve how you approach complex questions?

 

find ways to make co-creation and collaboration more efficient and effective? 

 

gain a more concrete understanding of what participatory leadership means in practice? 

 

try out breakthrough leadership? 

 
New leadership for new times? 
Today's world offers huge potential for communication, mobility, better health and knowledge acquisition. Digital media allow us to connect with anyone, anywhere, at any time. Everything seems possible, and everything is in flux. Humanity seems to be searching for new coherence that embraces both complexity and well-being, both individual and collective.
Leadership is becoming both a capacity and a skill. It is no longer (only) connected to a hierarchical position. It is the capacity and skill of working in and with networks, in and with complexity. This is a new kind of leadership that consciously transcends silos and sectors to achieve true co-creation. As organisers of this training, we wish to welcome participants from different contexts – especially the business world, the public sector and civil society – so that they can inspire and learn from each other's expertise.
Information and registration & team members
Participatory leadership: how do you do that day to day? 
Our traditional organisational forms and culture are no longer enough – not in businesses, not in civil society, not in government, and certainly not where any kind of innovation is needed! This raises some burning questions:
How do I breathe life into a start-up or new network? 

 

How do I overcome the inertia of old, ingrained structures and habits? 

 

How can I reinvent myself – how can we reinvent ourselves – as we go, on the job? 

 
While there are no easy answers to these questions, principles and daily practices for participatory leadership do exist, that really allow us to have a different kind of conversation and take action in a different way. These are principles and practices that we can learn and that can support us in our evolution.
The Art of Hosting Conversations that Matter – the focus of these 3 days of learning together – is an approach which scales leadership out from the individual to the whole system. You will discover innovative personal practices, dialogue formats, ways of hosting/facilitating teams, groups and networks, and co-creation of innovation for tackling the complex challenges facing us.
The 'art' in the Art of Hosting consists in eliciting and harnessing the collective intelligence of any group of people – a community, a network, an organisation or business – with a view to finding better, more sustainable solutions to complex challenges.
What you will learn and practise:
how to host meaningful conversations and harvest new insights and innovative action from collective wisdom 

 

how to design collaborative processes that result in co-creation and collective wisdom 

 

how to apply participatory leadership to best advantage in your own context

 

which methods and techniques to use for your projects and the specific challenges of each 

 

better understanding of complexity in group processes and how to navigate it. 

 
This very interactive training will throw you directly in the deep end of participatory leadership. We bring the theory into practice from the outset, going to work with the questions, ideas and projects of the participants.
Is this for me?
This 3-day training is for you if you:
are looking for answers to today's complex questions

 

feel the need to grow in co-creation and collaboration with others 

 

are curious about what participatory leadership looks like in practice

 

want to develop as a leader

 

are looking for ways to lead your organisation towards greater self-direction and self-organisation.

 
You are invited as:
✓ a social entrepreneur
✓ a CEO or manager
✓ an educator, parent, volunteer, student, school board member
✓ team member or policy maker in local and provincial government
✓ manager or policy maker in an NGO or civil society organisation
✓ consultant or coach
✓ organiser of multi-sector dialogue or societal leader.
The training will be delivered in both Dutch and English – because we have some international trainers in our team. It will be our collective task to ensure that everything is translated for those who need it (collective intelligence in action!)