(English below)
De kogel is door de kerk – eindelijk! – onze volgende Art of Hosting training in België is gepland op 27 en 28 febr. & 1 maart. (niet zo'n makkelijke datum om te noteren!) Deze keer zullen we verzamelen in de Oude Abdij van Drongen bij Gent.
Het thema dat de leiddraad vormt van deze training is dynamisch & participatief leiderschap.
PARTICIPATIEF LEIDERSCHAP: HOE DOE JE DAT ELKE DAG?
Onze klassieke organisatievormen voldoen niet meer; niet in ondernemingen, niet in de sociale sector, niet in de overheid. Dit leidt tot prangende vragen:
– Hoe creëren we nieuwe organisatiestructuren die dienstbaar zijn aan het welzijn van alles en iedereen?
– Kunnen we leiderschap zien als capaciteit en vaardigheid, los van hiërarchische positie; zodat werken in en met netwerken en in en met complexiteit mogelijk wordt?
– Kunnen we uitnodigen tot en deelnemen aan gedeeld leiderschap, en welke methodieken en capaciteiten zijn dan nuttig en nodig?
– Hoe kunnen we het leven, met alle creativiteit en authenticiteit, laten bruisen in ons dagelijks beroepsleven?
– Hoe geraken we persoonlijk uit het keurslijf van onze opvoeding en opleidingen?
Deze vragen hebben geen éénduidige antwoorden, maar er zijn principes, dagelijkse praktijken en bruikbare methodes van participerend leiderschap – waarmee we het werkelijk anders kunnen doen, in gesprek en in actie – die ieder kan leren in deze training en waar je op kan steunen in je dagelijkse praktijk.
Dit soort leiderschap gaat bewust over silo's en sectoren heen. Daarom willen we expliciet mensen uitnodigen uit diverse professionele kringen: zodat ieder specifieke expertise kan delen en we gezamenlijk slimmer worden.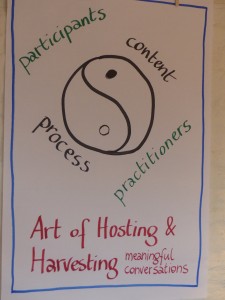 We organiseren ook één dag om te proeven van onze werkvormen en onze stijl. Meer info later!!!
Wil je op de hoogte blijven? Laat dan hier je email adres achter.

ENGLISH
The time is ripe, at last! Our next Art of Hosting training in Belgium will take place from 27 February to 1 March 2018 at the Oude Abdij van Drongen, near Ghent. The underlying theme that will guide our conversations during the 3 days will be responsive, organic and participatory leadership.
WHAT DOES PARTICIPATORY LEADERSHIP LOOK LIKE AND FEEL LIKE IN EVERYDAY LIFE?
Our traditional organisational forms are no longer adequate – neither in business, nor in government, nor in civil society. This raises burning questions:
– How do we create new organisational structures that serve the wellbeing of everyone everything and everything?
– Can we see leadership as a capacity and skills, irrespective of hierarchical position, so that it actually becomes possible to work in and with networks, in and with complexity?
– Can we invite and participate in shared leadership, and which methods and capacities are useful and necessary for this?
– How can we make room for life, in all its creativity and authenticity, to froth and flow in our daily working lives?
– How can we, as individuals, free ourselves from the straightjacket of conditioning we received through our upbringing and education?
There are no straightforward answers to these questions. But principles, daily practices and viable methods of participatory leadership exist which can really enable us to do things differently – in conversation and in action. You can learn these at the training and bring them back to support you in your daily practice.
This kind of participatory leadership deliberately transcends sectors and silos. We are therefore explicitly inviting people from diverse professional backgrounds, so that everyone present can share their specific expertise and we can all become smarter together.
In November we will also be offering a one-day taster where you can experience our style and our ways of working. More information will follow.
Do you want to be kept up to date on this training? Leave your email address here!